Time and the Soldier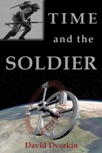 Ebook published by Smashwords in 2010.
Click on cover image for larger version.

During World War Two, two men and one woman are selected by a secret organization named Tempus to be time travelers. Tommy Stillwell, Ellen Maxwell, and Frank Anderson will be sent forward to different points in the future. Tempus is sure that one of them will find a futuristic superweapon that, when brought back, will end the ongoing war and prevent any future wars. However, while Tempus can send people forward, it has not been able to reverse the process. In addition to weapons, the time travelers will have to find a way back.
The three soon realize that Tempus is a dangerous, even murderous organization. Despite being warned not to, they become emotionally involved with each other. Tommy and Ellen are powerfully drawn to each other at first meeting. Frank also falls in love with Ellen, but he can see from the start that his feelings will never be reciprocated. Despite that, the two men become good friends -- which is unusual for Tommy, a loner by nature.
Tommy jumps forward to the 1990s, where circumstances push him into a life as a mercenary soldier. He's very good at it and rises through the ranks of his employer, InterAgency, a shadowy organization that works on behalf of various governments. Eventually, he realizes that InterAgency's long-term goal is to control those governments and that it is indirectly descended from Tempus. Tommy, amoral and self-centered for most of his life, has to deal increasingly with moral dilemmas. He rises high enough that he thinks he will be able to protect Ellen when she arrives. But not only will he be an old man by then, he also feels that he has become a monster. He will have to watch her from a distance and let her think that he died long before her arrival.
Ellen arrives in the mid-21st century in a world ruled by force and repression. She realizes that the mission she was sent on was a fool's errand. She searches unsuccessfully for any sign of Tommy and then finds work in space, a booming field that's always hungry for workers, even unskilled ones. Sadly but pragmatically, she sees herself as spending the rest of her life anonymously in this future age. Vacationing on Earth, she falls in with a revolutionary group and is murdered by government forces. Tommy senses the involvement in her murder of a shadowy, powerful figure whose existence he has become aware of before -- someone who seems to know more about Tommy than anyone in this era should.
Fifty years later, Frank arrives. Although he's a student and lover of history, the future overwhelms Frank, and he retreats from reality. This friend, Tommy is able to protect, for Tommy is still alive.
How this is possible, Tommy's attempts to undo the past and rescue Ellen, and the terrible sacrifice he finally realizes he must make, are the psychological and philosophical underpinnings of the story.
Click Below to Read a Sample
Purchasing Information
E-Book Editions
Print Edition